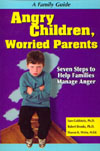 Angry Children, Worried Parents
$18.95
0902

Sam Goldstein, Ph.D., Robert Brooks, Ph.D., Sharon Weiss, M.Ed.

ISBN# 1-886941-58-0
Publication Date: 2004
Paperback, 148 pp

Summary

If love is the most frequently written, discussed and sung about emotion then anger must be the emotion most blamed for the problems people experience. Anger appears to be all around us. Parents worry when their children have problems with anger. In this practical book, the authors review a seven-step program to help parents of children age six to sixteen understand the causes of anger in children and to design a program to help their child learn to manage angry feelings and behavior. Learn these seven steps:
Understand why children become angry.
Identify when your child needs help.
Involve your child as a partner in managing anger.
Plan for your child to manage and express anger appropriately.
Design a daily behavior management plan.
Solve common behavior problems.
Instill a resilient mindset in your child.
"This is a wonderful book that can make family life more fun, enjoyable and loving." —Harold S. Koplewicz, M.D., Director, NYU Child Study Center, Author, More Than Moody: Recognizing and Treating Adolescent Depression
"Millions of parents worry about their children who have problems in expressing anger appropriately. This very worthwhile book is full of practical suggestions parents can use immediately. I will be recommending it in my work with parents and school systems throughout the country." —Marlene Snyder, Ph.D. Coordinator National Olweus Bullying Prevention Training, Clemson University
"Goldstein, Brooks, and Weiss give us powerful new insights into why children behave as they do, and practical easy-to-follow strategies to prevent even normal disappointments and frustrations from escallating out of control. Following the 7 steps will help children become a lot less angry, and parents, a lot less worried."—Myrna B. Shure, Ph.D Author, Raising a Thinking Child